Mr Pitamber Jha, a resident of Charami village, Bihpur at Bhagalpur district works abroad and had come to India in March-2020. He has a penchant for technology and had long planned to go green with Solar energy. The lockdown due to corona forced him to extend his stay in India – and he utilized this opportunity to realize his dream to get a solar plant on his rooftop.
He was searching for a partner who could help him with the project. The solar-business landscape in Bihar is filled with self-proclaimed installers who hardly have any understanding of how Solar projects have to be executed. Most of these people were uneducated mechanics / self-learned freelancers who had discovered solar installations to be a quick way to make money. Result was that most of the installations were incorrect, unsafe, took forever to complete, final cost ended up multiple times the estimated cost and so on. With keen interest in technology and his hands on internet, he was quick to understand the basics of solar technology and then it was not very difficult for him to figure out that 99% of the installers were quacks.
His searched finally ended with Dabun.
"After interacting with so many quacks, I had almost given up hopes of getting a Solar Plant at my rooftop – that too at such a remote location as Bihpur" he says.
In his words, "I searched for Solar integrators in Bhagalpur and came across this company called DABUN. I was not expecting any different experience this time as well. However, as the conversation progressed, I was finding it hard to believe that I was having such discussion in Bhagalpur. The team seemed to know every minute details of everything around solar technolgy. The professional approach, the depth of knowledge, the detailing of how to complete project in time and budget almost prompted me to pinch myself – was I still in the UK? As we progressed further during the week, I came to know that the team is composed of creme de la creme engineers who have years of experience working with most respected organizations in the world. So why on earth – Bhagalpur. That is when I came to know that they have embarked on an entrepreneurial journey with an eye on national and international market and a resolve to contribute something back to the society. Slowly, the jigsaw of the puzzle started to fall in place "
The Engagement Process
Site Assessment
The engagement started with a team of engineers visiting Mr Jha's premises to evaluate the load in the building, the space availability for solar panels, investigation of electricity bills etc. Based on this, a detailed analysis report was sent to Mr Jha which amongst other things stated the average & peak load, ideal place to place the panels and a list of recommendations with corresponding prices. Next meeting helped Mr Jha decide on the final configuration.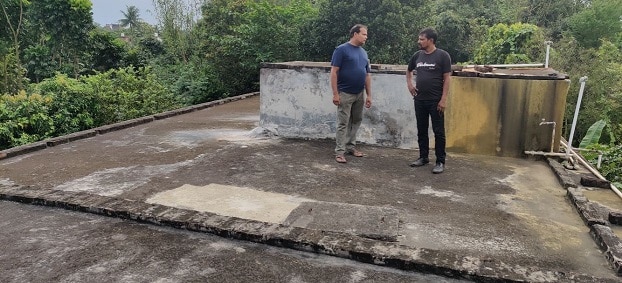 DABUN team at site for assessment
Agreement
Finally Mr Jha signed the contract with DABUN in Sep-2020. He had opted for a premium setup of 5 kVA Offgrid system comprising of Mono crystalline solar panels, lead acid battery bank and mPPT-technology based inverter. He opted for mounting structure based on DABUN proprietary design – "Fishbone Design" that would allow panels to change orientation as per season. The DABUN team claimed that 10-15% extra efficiency would be achieved with this design compared to fixed structure that are set a fixed angle equal to latitude of the location.
Design
Every roof is unique. Every customer is unique. So, every design of solar plant has to be customized as per the roof and per the taste of the customer.
A detailed design was created by team of engineers from Civil, Electrical and Computer Science which was presented to Mr Jha as well.
Construction
The construction of the solar plant started at Dabun's factory shortly after design was finalized. The modules were then transported to site. The unit was assembled at site on 06-Oct-2020
Construction begins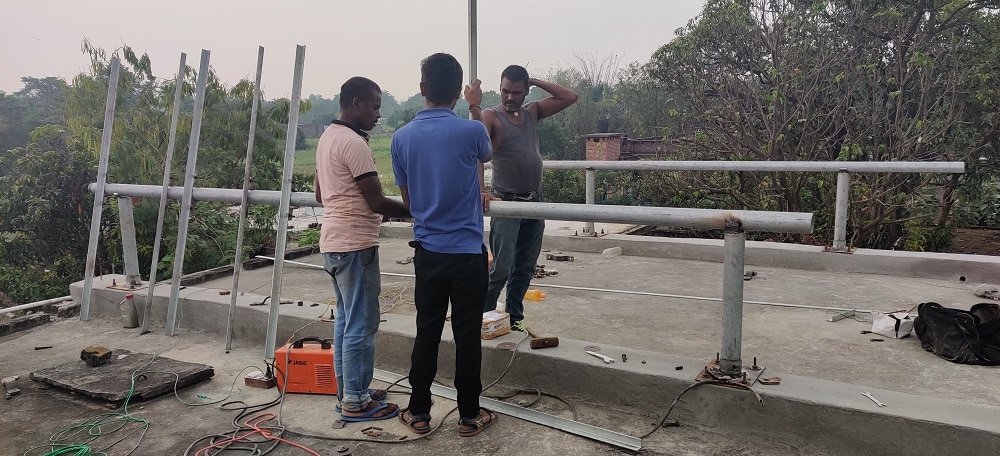 Construction halfway through
Installation and Commissioning
The very next day final electrical connections were completed.
At this point, the engineers showed Mr Jha the difference in power generation due to "fishbone" design. With fixed orientation equal to latitude of Bhagalpur (25 degrees) the set would have produced 6.5 A of current under prevailing circumstances. The team then started rotating the structure with ammeter hanging from the panel. As angle changed – so did the current; the optimum angle was found to be 39 degrees and current equal to 7.5 A – an increase of whopping 15.38 %. The delight on Mr Jha's face was obvious !!!
It followed a detailed cross review to ensure all the pieces have been laid down as per standards. Finally, plant was switched on.
The setup was tested the next day. The mains lines were turned off to see if the Solar set was generating electricity as expected. This continued even after sun was set. The plant kept the building powered till late in the night – which meant that the solar was fulfilling atlest 80% of the power required by the building. This was also indicated by the display on the inverter – the team just took a more "obvious" approach. So great news so far !!! Mains line was then turned on.
The next day, the system was functioning seamlessly with no intervention and the data indicated that 80% of the power requirement was indeed fulfilled by the plant.
This marked a successful completion of the project. A photo sessions with lots of smiles on faces of DABUN team and customer marked a happy ending of the commissioning process and start of a relationship.

Posing for final shot – DABUN founder Navnit Singh with customer, Mr Pitamber Jha
After-sales Service
DABUN team checked with customer the next day if things were running well. It was a positive confirmation. Next follow up happened 3 days later.
At the time of reporting, it had been around 2 weeks then. Everything seemed to be running smoothly.
The project has now moved to steady state – now DABUN support team is supposed to check with customer every month if everything is fine. Additionally, the engineers will visits the site to do a preventive maintenance, adjust angles to maximize power generation and perform other such preventive maintenance activities.
If there are any hiccups, customer has got a local contact he can reach out to anytime – this is the first level support. If it needs suppliers to intervene, engineers from corresponding companies are brought in to support the issue. However, so far, there has been no such incidents have been reported.